Replenishment unit
Heaty Complete Advanced XL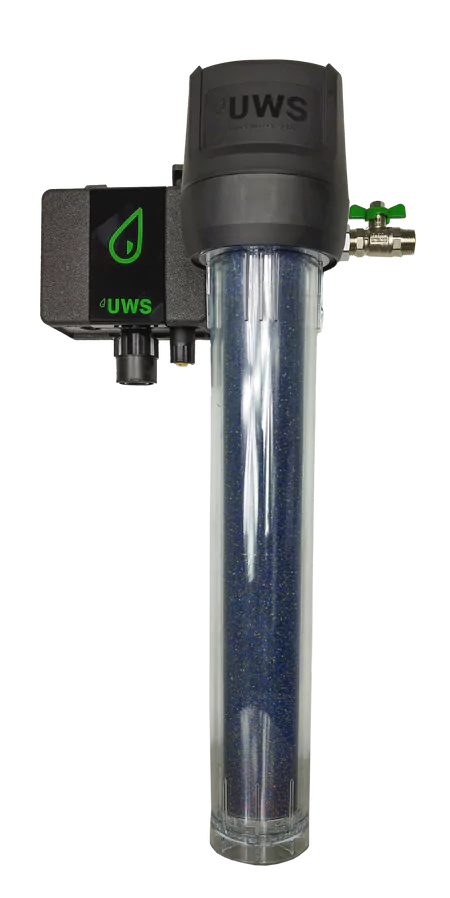 Replenishment unit
Heaty Complete Advanced XL
Art.-Nr. 100391
Our new Heaty Complete Advanced XL makes automated replenishment easier and more convenient. The digital display makes it easy to read off all values. When the system pressure drops, the filling combination automatically begins backfeeding the system with demineralised water. The unit has both an audible and visual alarm in case of depletion of the mixed bed resin. The backflow preventer and the BA system separator ensure double operational safety. The installation length is only 340 mm.
With a mixed bed volume of 1.5 l, this results in a capacity of 225 litres.
Interested? Contact us in writing or give us a call on +49 9869 91910-0.
Make an appointment
Controlled replenishment for sustainable heating water quality
Complies with VDI 2035, ÖNORM H 5195-1 and SWKI BT 102-1
Installation length of only 340 mm
Easy handling thanks to 360° mounting and simple cartridge replacement
Enhanced safety thanks to LED, display and indicator resin
Alarm when the capacity of the mixed bed resin is depleted
Digital capacity displays (resin and battery)
Display with menu navigation for ease of use
Initial filling of small system volumes possible
Max. filling capacity
200 l/h
Capacity at 420 μS/cm
to < 100 μS/cm
225 l
Mixed bed content
1,5 l
| | |
| --- | --- |
| Installation dimensions | 34 cm |
Replenishment cartridge with 1.5 l Vadion indicator
Filling combination BA 1/2"
Digital water meter
Digital capacity measurement
Keyless venting
Spanner for cartridge and union nut
Mounting material
Connection fittings ¾" union nut x ½" male thread
BA system separator
Stopcocks
Integrated flow limiter
Screen seal to prevent resin ingress
Optional: water supply from above